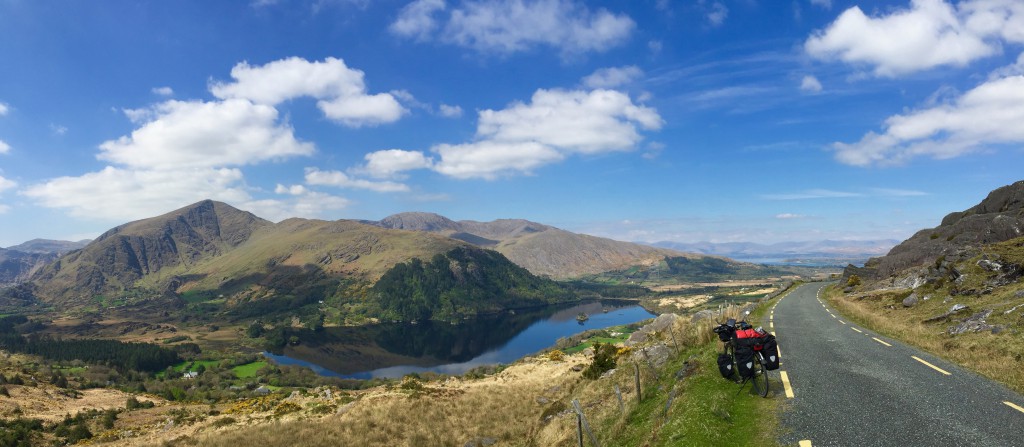 Most beautiful cycling: R574 (Healy Pass), R335 (Killary Fjord), Sky Road Loop (Connemara), R115 (Wicklow Mountains).
Longest distance without shower: 520 km (from Galway -> Belfast). Stinky boy, yes, indeed!
Total distance cycled: 1.402 km
Avg. distance pr. day: 117 km
Air ticket Copenhagen-Dublin – two-way with Norwegian (+bike): 120 EUR (80 EUR)
Money spent on food/drinks/accommodation: 427 EUR (28.50 EUR/day)
Favourite camp food: Batchelor's Chili Beans (canned)
Worst food served: 3.00 £ egg burger, Edfield Take-away (should be: Stay-away), Fivemiletown, N. Ireland.
Best food served: Thai Garden Restaurant, Galway
Total distance bike touring the world: 83.300
Number of countries visited by bike: 64 (6 continents)
Number of countries visited: 92
Advice most often told by locals: "If you don't like the Irish weather, wait for 10/20/30 minutes"
Weight, Koga Signature bike: 17 kg
Weight, luggage: 25 kg
Lowest temp.: -3.4 degrees C (near Curry, Co. Sligo)
Highest temp.: 20.5 degrees C (Kinsale, Co. Cork)
Nights in tent: 9
Nights in hotel/hostels: 1/5
Longest cycling day: 179 km (from Moylough, Irl. -> Dungannon, N. Irl)
Best wild camping spot: Tip of Sky Road Loop, Connemara. E of Bunmahon, Co. Waterford.
 Vertical meters climbed: 12.161 m
Flat tyres: Zero (thanks again, Schwalbe!)
Mechanical break-downs: Zero
Age of my beloved tent (Exped I Extrem): 9 years
Sunshine days: 11 out of 14 (Bravo, Éire!)
Cycling days: 12
Non-cycling days: 1 (day 9, Galway)
Photos taken: 1.285
Camera used: iPhone 6
Biggest concern: Running out of battery on iPhone.
Highest pass: Healy's Pass, 320 m.a.s.
Ireland as a cycling destination, overall rating: 9 (of 10)
(There you go. That's it)