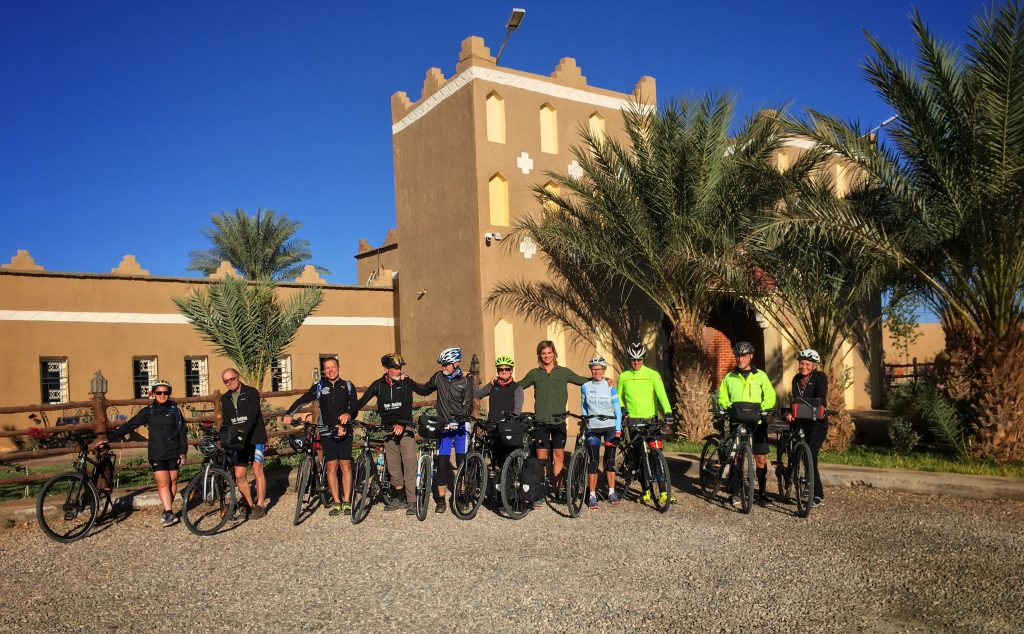 MISSION COMPLETED ✅:
The bike journey in Morocco's High Atlas Mountains is over,
and I'm back in Denmark, summing up what has truly been one heck of a fantastic journey,
socially/scenically/physically/gastronomically/meteorologically…
These are the stats & numbers:
•Distance pedaled: 1.115 km ?
•Meters cycled uphill: 11.285
•Travel days (brutto): 17
•Cycling days: 14
•Avg. distance pr. day: 80 km
•Highest point: Tizi 'n Tichka Pass, 2.260 m
•Number of flat tyres (group total): 5
•Crashes on bike (group total): 1 (no injury)
•Hospital visits (group total): 1 (stomach)
•Liters of sweet mint tea consumed: A lot
•Liters of Moroccan beer consumed: Not a lot
•Water consumed daily (estimate): 2-4 liters
•Numbers of mud brick casbahs seen: 83
•Max. mid-day temp: 28 C (Marrakech)
•Min. morning temp: 5 C (Tizi 'n Test)
•Max. altitude increase in a day: 1.786 m
•Standard favorite food: Lamb tajine
•Favorite soup: Harira (lentils & veggies)
•Standard price of mandarines: 0.63 USD/kilo
•World class desert scenery seen: Plenty
•Favorite snacks: Fresh OJ and dates
•Number of cyclists in group: 11
•French riders in group: 1
•Youngest rider: 37
•Oldest rider: 78
•Number of mosques visited: 1 (Tin Mal)
•Most beautiful gorge: Gorges du Dades
•Number of visits to Morocco (ego): 6
•Number of visits to Morocco by bike: 3
•Steepest road cycled: 14% (Gorge du Dades)
•Avg. age in group: 60
•Price of bike rental in Marrakech: 15 €/day
•Number of sunshine hours: 10-11 hours/day
•Favorite view: Todra Gorge palm groves
•Drops of rain in 16 days: Zero
•Avg. speed (journey, total): Ca. 19 km/h
•UNESCO sights visited: 2 (Aït Ben Haddou Kasbah & Marrakech Medina)
•Level of love for Morocco (ego): High
•Possibility of a 2018 Moroccan bike trip: High
•Daily boogers due to dry desert climate: Yes
•Cutest mode of transportation: Mule/donkey
•Daily cat cuddles/fixes: 2-4
•Avg. riding time pr. day: 4h15m
•Favorite nicknames (Jan): Le Professeur/Seducteur/Charmeur
•Moments of daily 'solo time': 2-3 minutes
•Jokes cracked (group total): Uncountable ?
? And most importantly, a huge and warm THANK YOU to all riders for making this such a fantastic, funny, and unforgettable experience ?