I believe I've already used all of this years' self-promoting silver coins (here and on Facebook ) – but bear with me, this one is different.
Since I got back from my RTW bike ride I've been a member of De Berejstes Klub (DBK), a Danish club (founded 1996) that aims at spreading the desire to travel and spread information about travel, foreign countries and cultures (home page and wiki). In other words, it's a great club where travel-crazy people can meet other travel-crazy people, share ideas and thoughts and perspectives.
Every year the DBK honor one of its members with the "Folkersen-prisen" – a travel award that is given to a member of the club who:
…over the years has traveled in the spirit of Poul Folkersen (one of the founders of the club), a person who has ventured far away from the usual tourist spots through a particularly energetic and boundary-pushing traveling life, a person who has thus gained a thorough understanding of local life and culture. Furthermore, it is emphasized that the member's travel experiences have been appropriately passed on (through the written word) to both the club and the rest of society [My translation from DKB's website).
Needless to say, I was really surprised and super proud when my name came up last Saturday at the DBK annual general meeting. At the meeting the president of the club, Søren Fodgaard, explained and justified this year's decision. To me it was all beautiful, memorable words that turned my whole body into goosebumps. Standing there in front of some 70 members of the club, I was trying not to look too fazed by it all, but it was a special and intense moment.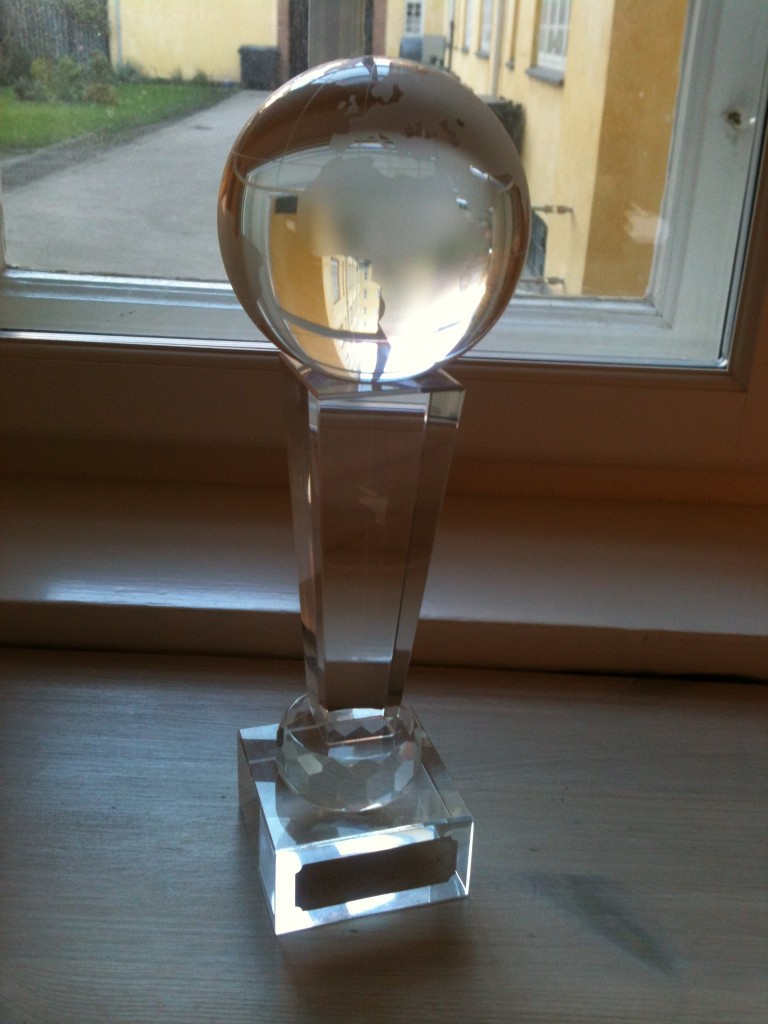 Along with the great honor and a prize money came this fine heavy-duty trophy, appropriately shaped like a Globe.
With much appreciation and proudness: thanks to De Berejstes Klub, for the Folkersen-prisen and for the best travel club in the country.
/ Nicolai (DBK-member #588)