Here you can see what's going on in my world. Go to the blog!
NEWS JANUARY 2014! See trailer (HD & full screen recommended) from the Bali-Beijing Expedition:
NEW PRESENTATION 2013/2014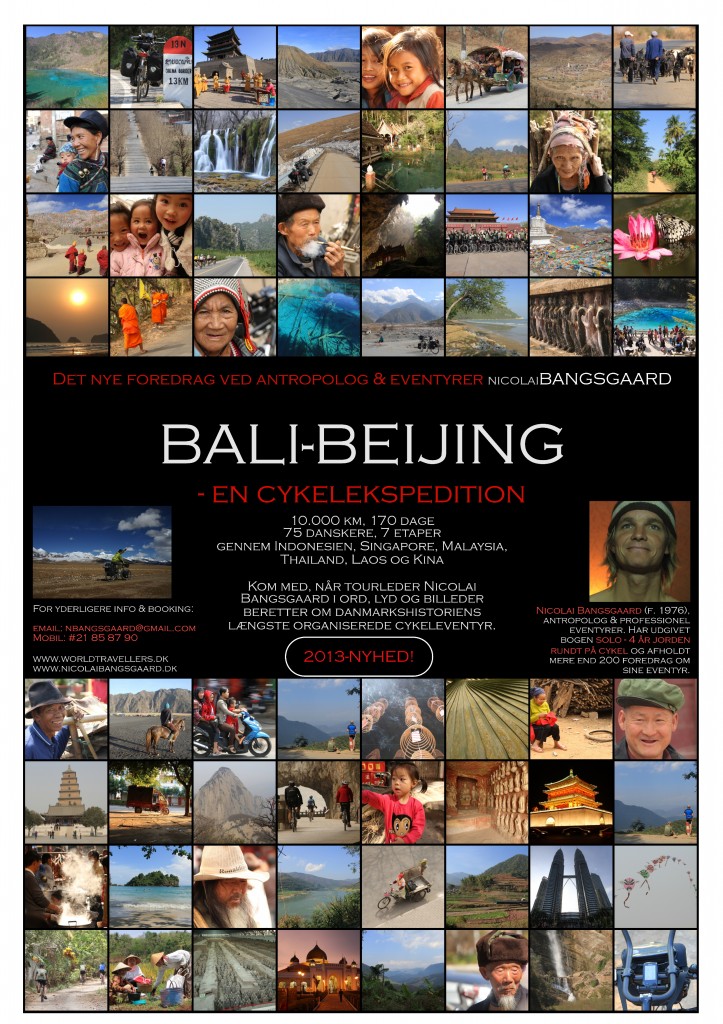 See mini movie from my journey from Dubai-Oman (2011-2012):
I've written a book "SOLO – 4 år jorden rundt på cykel (SOLO – 4 years around the world by bike in English)" about my world ride.
Reviews of the book (in Danish):
Autentisk og levende. Fire ud af fem stjerner til Nicolai Bangsgaards bog. En varm anbefaling herfra, og en oplagt gaveidé til den cykel- og rejseinteresserede, der gerne vil opleve en flig af verden formidlet af én, der har været der – for alvor. Motionsløb.dk
En imponerende bedrift. Politiken
Bogen er hudløs ærlig og er en fornøjelse at læse. [...] Gudskelov fortsatte Nicolai Bangsgaard turen alene, hvilket der er kommet denne fantastiske bog ud af. Horsens Folkeblad
"Solo" er en fremragende bog. Nicolais baggrund som antropolog fornægter sig ikke, så hans beskrivelser og tanker bliver gjort endog meget levende for læseren. "Solo" er en sanselig indleven i Nicolais univers under hans 4-årige solotur jorden rundt. Tanker om den verden vi lever i på godt og ondt og hvorfor netop cyklen er det ultimative redskab til at opleve verdens mangfoldighed.
Nicolai er en fornem ambassadør for det åbentsindede menneske og [bogen] burde læses af alle [...] som forhåbentlig vil få deres opfattelse af verden revideret, og få mod på at tage ud i den med åbent sind og arme… Cykelportalen.dk
Contact:
✉: Telemarksgade 10, 4. TH., DK-2300 København S
@: nbangsgaard@gmail.com
☏: (+45) 21 85 87 90
Find me on Facebook, Flickr, YouTube, or somewhere out there…